About Us
Meet your hosts Mike and Handan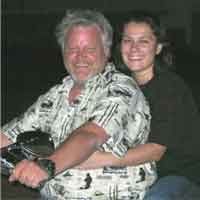 We love the hospitality business!
Back in 2003 we set out to try our hand at becoming small business owners. At that time, we were open to just about anything. Video stores, car washes, RV parks, you name it. But, it had to be something we were good at and that led to the resort business. Handan has a degree in Hotel and Tourism Management from her school in Izmir, Turkey so it seemed like a sensible thing to do. Best decision ever.
How we found the resort
In May of 2003, we began to search high and low for businesses when we stumbled on Coleman's Resort.  The owners were Gene and Ginger Cantrell, a couple who excelled at running a thriving business in Branson for 20 years. The property looked so promising we literally bought it in 3 days from discovery. In many ways it was the simplest decision ever. 2 miles south of Silver Dollar City, 200 yards from Indian Point Marina, and directly across the street from the only grocery store on Indian Point.
The very first thing we did
We took ownership of the resort on the 23rd of August, 2003 and found ourselves now in unfamiliar territory – alone. Every purchase, every bill, license, staffing, and projection fell on us. Would we be an LLC, a Sub S, a Sub C? Who would we turn to for all of these things? It was late at night (1:30 AM give or take) and we were in the office asking each other these questions when Handan said "Wouldn't it be great if we could get in the pool?"
And then it dawned on us – we could! We owned the place and we could do just that! Our first "executive" decision was to run out of the office and jump into the pool at 1:30 in the morning. It was a great start to our adventure and we have kept the free spirited fun alive like this ever since.
Differentiating ourselves
When you get right down to it, resorts – hotels – motels – and vacation rentals all have pretty much the same thing. It is the amenities that set them apart. Handan trained the staff with the admonition that no matter what, every room will meet or exceed the highest standard in cleanliness possible. We then set out to make an internet cafe in the office. At the time, there were virtually none in Southwest Missouri and we were smashed with business for the first 3 years. Then we added in free movies for kids (On VHS no less). Later, we became the first resort on Indian Point to have all 32″ LCD televisions, which have since been upgraded to all 50 inch LEDs with DVD players
We also hold the distinction of being the first resort in the United States (Yes, ALL 50 states) to feature induction range tops in our kitchenettes. Every room with LED lighting, double paned high efficiency windows, high SEER rated HVAC units and new energy efficient refrigerators. Our efforts paid off as the city of Branson recognized our efforts and named us the Green Energy Award Winner for the city of Branson in 2017. 
Giving back to the community
We love charity and nothing gives us a better feeling than being a part of something bigger than ourselves. To date, our resort has helped raise more than $100,000 for the Shriners Children Hospital of Saint Louis. We gave away every room for free on the 10th anniversary of 9-11 to any active duty military member and we gave away free rooms to a magnificent family who adopted 7 children. Every year we set our minds to doing something that impacts life for the better. Our customers have given us so much over the years and it feels good to give back to the community that has supported us so kindly along the way.
16 years and counting.
We are closing in on the end of the road for ourselves and soon will explore our own exit, turning over the reigns to a new team of excited entrepreneurs. When? We are not sure of that, but when the time comes I can assure them of this. They could not and will not buy into a better community or opportunity than Hunter's Friend. We have been blessed beyond words to work in such a relaxed and loving city like Branson. It truly is the best of everything in every possible way.
Your dream vacation starts here