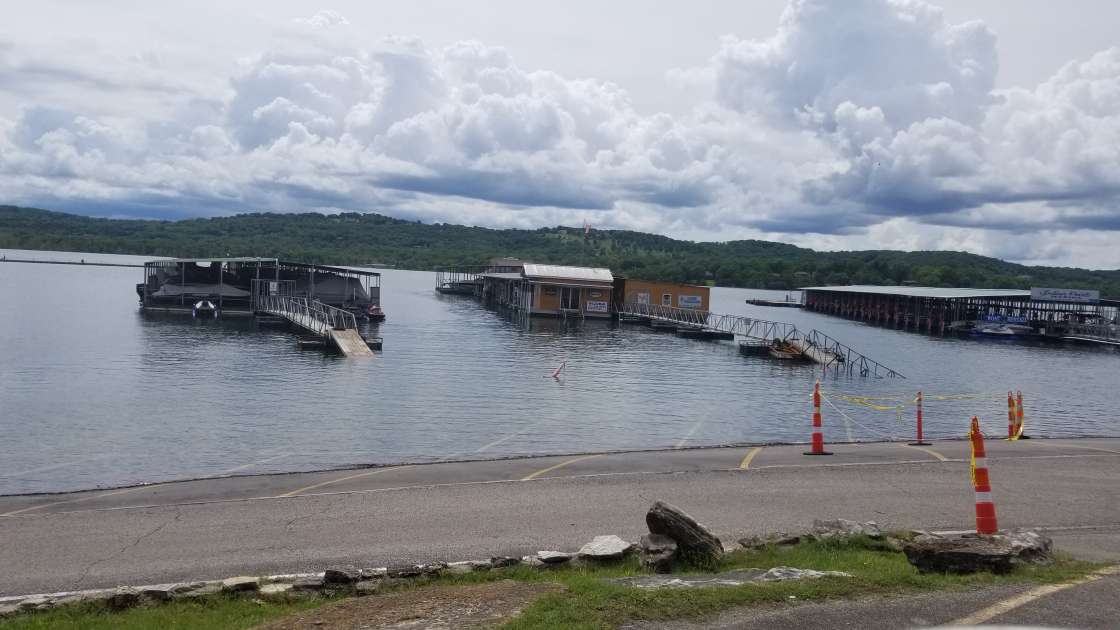 As if we didn't have enough to deal with. 2020 is turning into one for the record books. We start off the year with Covid 19, then they shut down Silver Dollar City and now we are facing record floods.
Yesterday the Corp of Engineers shut down the boat launch at Indian Point Marina. With lake levels exploding upwards (pool level of 931 feet and rising as of 29 May, 2020) we just have to shake our heads and ask "God? Is there anything else? If so, can we spread it out a little more?"
With our resort, we go as the lake and Silver Dollar City goes. Yesterday, the governor extended out the phase 1 reopening until the 15th of June, 2020. While this doesn't really affect us one way or another (since the park is still closed) we can only go along for the ride and observe. 
But, closing the marina at Indian Point is actually a pretty big deal. Not only will it cause us problems for the foreseeable future with families looking to escape to the lake, it also impacts us for fishing tournaments. Just yesterday we had a cancellation for the Big BassTour that was scheduled for the first week of June. This event was originally scheduled to happen in April, then pushed back to June. Now, it has been rescheduled for  30 Oct – 1 November, 2020. 
Always trying to have a backup in place, we did speak to Jim Daly at White Wing Resort and he will help us to get our customers into the water. PLEASE remember this gentleman and his business. Very few direct competitors will help when situations arise – but Jim and his wife Laura are the exception. We always try to reciprocate when possible, but it always seems Jim comes through more for us than the other way around. 
We will do everything we can to offer you the best possible vacation with the least amount of stress for 2020. Give us a call and tell us how we may be able to help you and your family have fun this summer. We ALWAYS appreciate your business – but this year could really use the assist. 
All the best and God Bless to all.
Hunter's Friend Resort
417 338 2849