Sunset at Table Rock Condos
Table Rock Sunset Condos – Branson's Original Lakefront Luxury Condos
If you were to envision an arrowhead pointing downward, that would be the shape of Indian Point. At the very point of that arrowhead is where the Table Rock Sunset condos are located. It is a very exclusive area of Indian Point and one that we are proud to manage. Our condo has the best lakeview of Table Rock Lake and offer you the finest in decorations and furnishings. This condo comes with a free boat slip. Unlike the rest of Branson this condo sits on relatively flat land, making the trek down to the lake a smooth and easy one. Table Rock Sunset also has its own private pool located onsite for the condo guests.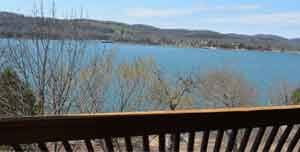 Table Rock Sunset 311
Gorgeous top floor lake views for everyone that stays in this newly renovated condo. Enjoy the huge television in the living room as well as the huge lake…
This Branson condo is located just 3 miles south of Silver Dollar City.
Conveniently located just south of Silver Dollar City, guests can exit their condo and be in the parking lot of the amusement park in 8 minutes. Exiting and returning back to the condo is even easier. WalMart in Branson West is only 6 miles away and easy to get to from your condo.
Before you reserve one of these lakefront condos make sure you review the details.
Several of these are on the top floor and there are no elevators with the condos. If stairs are a problem we have 3 condos where you can get around with no steps. One of them is even handicap accessible. Also the sleeping arrangments are different for each condo so please review the details on each condo carefully.